To me Craft is not defined by ownership, production capacity or sporting the right beard. Craft is an attitude. It's putting all your passion in your products. It's about willingness to maximize quality over maximizing profit. It's about integrity, passion, stubbornness, innovation, sustainability. That's what I strive for with my own creations and selections. That's why I offer the selections of likeminded passionate bottlers and distillers in the webshop.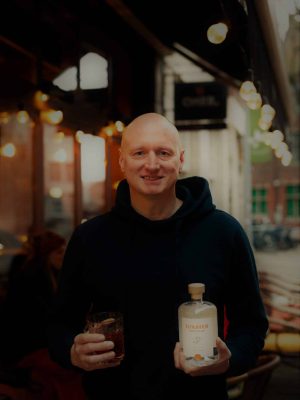 Jeroen Moernaut (°1978) is an established name in the Belgian world of spirits for more than 15 years. In 2007 he turned his healthy passion for whisky into his profession by starting The Bonding Dram, back then the first webshop with spirits in Belgium.
In addition to his background in the trade of spirits, Jeroen also hosted hundreds of tastings about whisky, rum, jenever and gin all over the country. His greatest assets are a passion for (distilling) history, an in-depth knowledge of spirits production and a degree in environmental engineering. In addition, he also completed courses as a jenever expert and distiller and he is a former student of the legendary Springbank Whisky School in Campbeltown, Scotland. Jeroen is not only a man of theory, after completing several courses in distilling, he started the conception of spirits of the highest quality, with an ecological twist.